See on Scoop.it – Marketing, Social Network, SEO, Hacking, Viral Media, Buzz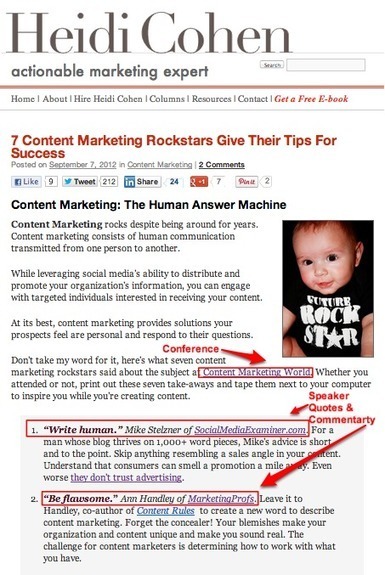 Excerpted from article by Heidi Cohen:
"Content curation involves using the unique taste and understanding of their your target audience that only people can provide to create new and value added content. The curator carefully selects from the mass of content available and presents it in an easy to consume format. This process highlights other people's content as well as your organization's older content in the context of your brand to support your marketing and business objectives.
Here are seven ways to curate other people's content presenting the information in a way that highlights your brand and point of view to attract your audience.
1) Offer link love.
2) Collect a "Best of List".
3) Round up posts.
4) Research review.
5) Create a Top 10 List.
6) Add commentary to someone else's column.
7) Leverage second rights.
Read full and detailed article here:
http://heidicohen.com/7-ways-to-curate-content-without-working-too-hard/
See on heidicohen.com